An enterprise automation architecture is a holistic approach to implementing automation programs within an organization. It includes programs to guide businesses through the pros and cons of RPA implementations toward a complete automation architecture that handles both tactical and strategic automation opportunities. RPA may provide quick relief as a non-invasive form of integration. However, processes are not always simple, routine, repetitive and stable. They may be long running, and they often involve intelligent automated decision making and optimization.
Hyper-automation incorporates all the tools, including Robotics Process Automation (RPA), Intelligent Process Automation (IPA), Intelligent Business Process Management Suites (iBPMS), iPaaS, and decision management systems together. Hyper-automation refers to an effective combination of complementary sets of tools that can integrate functional and process silos to automate and augment business processes; and can be enabled by Digital-Ops — which is a business process framework designed to simplify, measure and manage processes across the enterprise. The Digital-Ops toolbox offers a wide array of technologies beyond RPA, such as BPM, workflow engines, decision management suites, process mining, low-code application platforms (LCAPs) and others.
This whitepaper is a dedicated resource to assist Enterprise Architects, to move beyond RPA and evolve to deliver hyper-automation through the following lifecycle:
Defining an automation journey.
Co-creating a strategy to combine Digital-Ops tools.
Augmenting business processes with AI.

Plan the Automation Journey
A roadmap is a very important first step to lay out the desired business outcome and the processes that need to be optimized, before automating and assembling tools from Digital-Ops toolbox.
Define the Desired Business Outcome – It is important to define your digital ambitions. Enterprise architects and business process owners must collaborate to set a vision for their digital business initiatives and align process automation goals to three key objectives – Revenue, Costs and Risks. Identify the use cases you wish to optimize in order to improve the efficacy and efficiency of a process and aim to transform business processes by experimenting with new ways of delivering value by redesigning and optimizing processes.
Optimize the Process – It is essential to structure business processes for high performance. Identify use cases for optimizing processes by focusing on: Rightsizing your process IQ, Industrializing and scaling the core processes that drive products and services delivered via a digital business platform and Enhancing your process with structured and standardized data inputs, and decision intelligence.
Plan to Apply Digital-Ops Tools with other Tools – Identify the Digital-Ops tools that are closely aligned to your automation roadmap.
Assemble Digital-Ops Tools
A Digital-Ops toolbox that is aligned to business-model-driven process automation comes with many options to address the different steps of process automation (discover, analyse, design, automate, measure, monitor and reassess). Inspect your use cases and your long-term business objectives to identify the optimal combinations of these tools.
Tools comprising the Digital-Ops toolbox:
BPM Platforms – Intelligent BPM suites (iBPMS) have a solid foundation of tools for orchestrating processes and automating tasks within those processes. iBPMS consolidate integration services, decision management, process orchestration, ad hoc processes and advanced analytics into a single platform.
RPA – RPA is a non-invasive integration technology used to automate routine, repetitive and predictable tasks through orchestrated UI interactions that emulate human actions.
Low-Code Application Platforms – The graphical nature of LCAP development environments can be used for modelling rapid automation of a business process. LCAP offers business process orchestration and workflow services to rapidly automate tasks and orchestrate them into simpler processes.
Process Mining and Discovery/Analytics – Process mining is designed to discover, monitor and improve real processes by extracting knowledge from the event logs readily available in application systems Process mining includes automated process discovery, conformance checking and other advanced analytics features. Process mining tools can be integrated with BPM and RPA platforms to optimize routine automation opportunities by discovering, monitoring and analysing business processes, tasks and interdependencies.
Decision Management Suites (DMSs) /Business Rules Management Systems (BRMSs) – DMSs are used to supplement conventional application development and runtime tools when a business application includes decisions that entail complicated or frequently changing logic. Modern DMS products have evolved beyond business rule management systems by providing better support for analytics and decision modelling. These can be used alongside BPM tools.
EA and technology innovation leaders should look to transition from a loosely coupled RPA ecosystem with complementary technologies, to a more-connected Digital-Ops toolbox.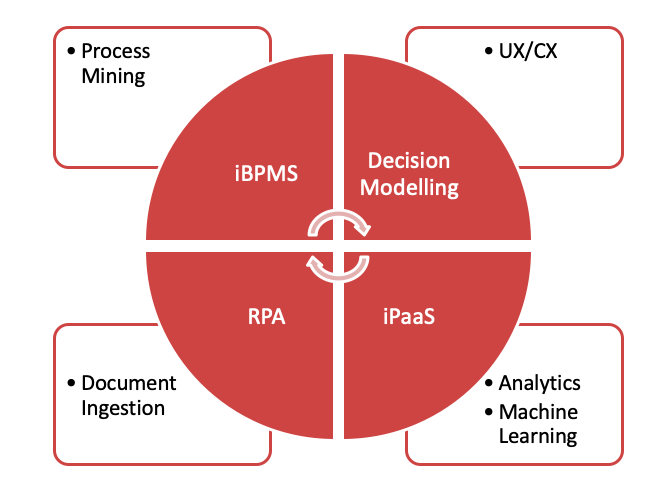 Augment Business Processes With AI
To accelerate hyper-automation, an integrated system of intelligence effectively combines Digital-Ops tools with:
Artificial intelligence (AI)
Machine learning (ML)
Natural language processing (NLP)
Optical character recognition (OCR)
Conversational chatbots
AI can be applied at each layer of application integration to facilitate predictive insights and enable guided recommendations, process mining and adaptive decision making. A business process touching many applications and systems can effectively use AI, ML and NLP models to achieve the same thing.
To realize business value, we must deploy AI technologies that deliver specific, measurable business outcomes for targeted use cases. We need to collectively develop candidate use cases of AI and ML, while identifying the quantifiable business outcomes from each of these use cases to start building the framework.
In summary, stand-alone RPA has made a lot of tasks execute faster and with fewer errors, but RPA by itself does not transform processes. It just makes your existing processes run faster. To scale beyond RPA, or siloed automation solutions, you'll need to grow beyond the common approach to automation, which is focused mostly on delivery, and scale to the disciplined iterative portions of Hyper-automation, which are much less commonly practiced.
Kanoo Elite has experience in providing RPA and hyper-automation solutions. We can help you find the best approach to leverage tools from the Digital-Ops toolbox giving you the ability to transform your processes and business, and scale beyond RPA.
We help you determine, based on your Business Objective, or Digital Ambition, what tools from the Digital-Ops toolbox you'll need to scale beyond RPA. From there, within each process, leveraging our Automation Alignment Matrix, we can easily analyse the type of work being done at each task and choose the proper automation tool to help you achieve your goals.