An effective security awareness program encourages employees to understand and abide by established security policies and practices. Security and risk management leaders can achieve a successful program by following a stepwise approach to research, develop, plan, offer and evaluate training. Building an effective and comprehensive security awareness program seems like a daunting task to those who are fortunate enough to be responsible for it. Like most security awareness professionals, understanding a program's critical security components and connecting them together to design something comprehensive, continuous and engaging is an overwhelming task. Through the basics in the whitepaper, we will provide you the best strategies to build an effective security awareness program.
Security awareness is a crucial aspect of a comprehensive risk management program and to be effective, the security awareness program must have senior- level management commitment and be aligned with the enterprise's culture, practices and needs. CIOs, CISOs and other enterprise security stakeholders who are tasked with developing and implementing a security awareness program should follow a careful, step-by-step process:
Engaging Education/Content – to help the employees understand their responsibilities in protecting the enterprise, coupled with reinforcement tools designed to change long-term behaviours.
Pervasive Communications – through ongoing reinforcement, rewards for security measures and keeping security top-of-mind.
Attacking Simulations – A way to identify key pockets of risk by conducting simulated exercises to test ability to detect social engineering attacks.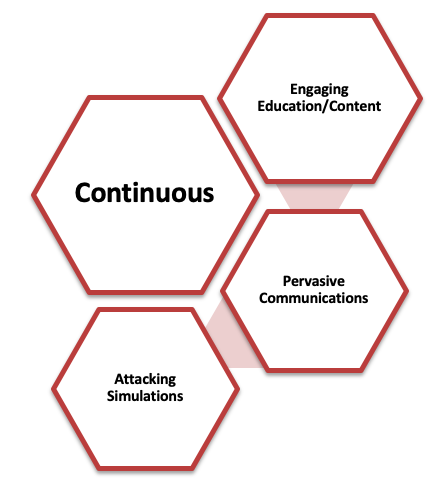 Analysis
Establishing a Long-Term Strategy for Security Awareness Development
Technical security controls offer preventive, detective and reactive controls, and support data analysis and decision making, but the prevalence of phishing attacks underscores the need to develop all security controls; human and technological, to present more effective defence and response to threats. The best level of security can only be attained by optimizing both human and technical approaches.
To Build an Enterprise Security Awareness Program, the following standardised steps are normally followed:
Define the Preliminary Scope of the Program
A scoping statement will form the basis of success/failure metrics for your overall program; so, be clear and specific, and explicitly define the activities that are inside and outside the scope of the program. The following are performed:
What Is Your Starting Point? – To start, determine where your program originates.
What Are You Trying to Do? – Determine your Objective.
Who Are Your Advocates? – Analyse your Audience.
Develop clear time frames, and structure the security awareness program to cover a minimum of two to three years. Ensure that you build in program review points at each budget submission date, and a summary review near the end of the overall program life cycle.
Engage Business Stakeholders
One-on-one meetings with senior business leaders to identify security issues that are of strong, personal interest to each executive, can be arranged. Utilize large libraries of computer-based security awareness training content; including interactive modules, videos, games, posters and newsletters to engage business stakeholders. Have a dedicated security team to ensure security awareness compliance and are trained regularly through deep insights leading from activity monitoring of insiders and physical security portfolios.
Build a Business Case for the Awareness Program
The core objectives and benefits of the security awareness program must be clearly defined. You can summarize these goals from the discussions held with enterprise stakeholders, and translate them into measurable actions, consequences and statements of business benefits. Designate a security team member with the necessary project management skills to manage the security awareness program. The business case also must identify resource requirements and define the relative success of the program through the following metrics:
Number of employees who have participated in awareness activities (compared with the total number of employees)
Security incidents reported by employees who have completed the awareness training program
Security concerns reported by employees who have completed the awareness training program
Number of manager and staff requests for awareness materials or activities
Survey responses indicating staff attitudes toward security risk management issues
Leveraging an Attack Simulation System as a Requirement Analysis Program
The use of a phishing simulation program is important to help identify key pockets of risk within the enterprise audience, deliver social engineering attacks and provide just-in-time training and teachable moments. Establishing corporate email policies ensures that employees and customers are aware of what a legitimate email looks like and increases security awareness.
Plan a Workable Program with Definable and Measurable Goals
A clear understanding of program audiences is critical to the success of the security awareness program and this understanding can be achieved by conducting interviews with executives and managers from several of the enterprise' s business units and internal organizations.
Before and during the activity design phase, we need to conduct a needs assessment of the target populations for each activity to determine the learning styles of the participants and the appropriate mechanisms to deliver awareness content trough the following:
Realistically achievable changes in staff behaviours
Materials required
Staff time commitment required for participation
Cost of external CBT materials
Cost of external consultants
Baseline Testing and Implementing the Security Awareness Program
We need to do a baseline test of the organization two to three times prior to launching an official security program, in order to get a true understanding of where risk lies. The workforce does not need to be informed of the results as a teachable moment. Then the management can administer the program based on the identified risk. As we implement each phase of the security awareness program, we will ensure that its execution is based on reasonable objectives and measurable milestones.
Measure and Optimize
We need to quantify the success of your security awareness program. Once the security awareness program is underway, the designated individuals can begin measuring its success against the metrics you developed during the planning stages, and report on all successes and problems. This process of measurement and reporting — which must be ongoing — will enable you to improve the program's content and delivery. Evaluate what is and is not working, recognize successes and address failures, and then repeat the process in a continuous improvement cycle.
Conclusion
Kanoo Elite is a GCC-based, world-class technology, consulting, and outsourcing firm leveraging deep technology expertise, strong industry experience, and a comprehensive portfolio of security services. Our team of highly skilled professionals have over 4000 years of combined experience will help you build an effective security awareness training program which would be both comprehensive and continuous. Our design led approach to provide security awareness services will leverage engaging/interesting content, simulated attacks and insightful communications to assist you in developing a support force of champions, advocates and executive support, for an effective Security Awareness Program.