Automation has taken much of the business world by storm. For a good reason – it presents the continuum of the digital transformation journey transition that transforms process-focus to data-focus. Human workers also need assistance to ensure they can move from repetitive, rule-based tasks to activities requiring higher-value insight. As a result, automation becomes a requirement.
"Robotics Process Automation is a non-invasive integration technology used to automate routine, repetitive, and predictable tasks through orchestrated UI interactions that emulate human actions." – While RPA tends to focus on automating repetitive and, many times, rules-based processes, intelligent automation incorporates artificial intelligence (AI) technologies like machine learning, natural language processing, structured data interaction, smart document processing.
"Hyper-automation refers to the use of advanced technologies, like artificial intelligence (AI), machine learning (ML), and robotic process automation (RPA), to automate tasks that were once completed by humans." – Hyper-automation incorporates all the tools, including Robotics Process Automation (RPA), Intelligent Process Automation (IPA), Intelligent Business Process Management Suites (iBPMS), iPaaS, and decision management systems together. Hyper-automation is the ultimate automation toolbox- it can use AI to fine-tune cognitive functioning to surpass basic task automation to intelligent orchestration, which then induces adaptive decision making, predictive insights, and guided recommendations.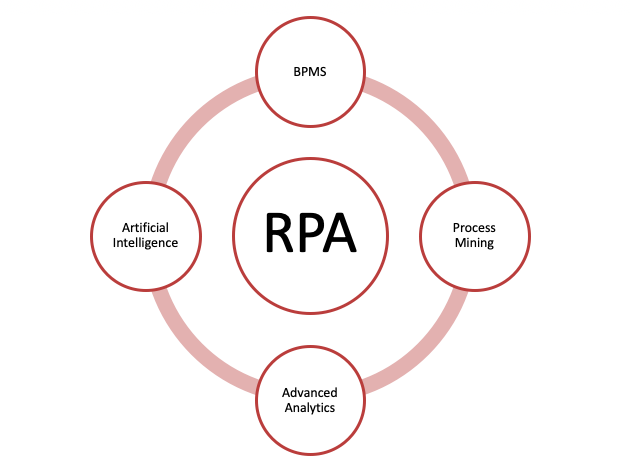 Organizations' drive toward digital business has highlighted the need to link digital dreams with legacy nightmares. Organizations need to get data from a wide variety of formats into and out of their organizations and move it around the organization in an optimal manner. Hence, streamlining ingestion, movement and optimizing decision-making capabilities are fuelling the demand for upgradation to hyper-automation technology combinations, and this whitepaper summarizes the process of evolution of RPA systems to Hyper-automation systems.
Analysis
Cross-functional collaboration. Before RPA, complex coding was required to drive automation. Today, RPA has simplified execution with robots. However, RPA is restricted to the automation of predefined and repetitive tasks. To institute hyper-automation, cross-functional collaboration is necessary. Hyper-automation takes RPA to the next level by facilitating intelligent and adaptive processes that recommend the next course of action instead of executing the same activities until told to stop.
In fact, hyper-automation breaks through inter-functional boundaries. Instead of RPA repeating the same monotonous activities, hyper-automation uses intelligence to decide the best strategy for performing those activities.
Hyper-automation to Overcome Clients RPA Scaling Limitations
Prospective and existing RPA clients "fail to scale" deployments with RPA alone due to four primary hurdles:
Lack of process insight
Politics — in other words, organizational change
RPA only can rarely automate a human out of a process completely
Total cost of ownership choices comparing dedicated or other software tools
Hyper-automation will help resolve the following by:
The demand for clients to gain visibility of processes to have more confidence and clarity around automation is fuelling acquisitions, own builds, partnerships of process mining and process discovery tools. The market expects to see even more acquisitions and partners involving these types of tools and a very fast growth of process insight tools markets, clearing the pathway for more impactful automation choices by exposing less than optimal human processes and politics — the two main barriers to hyper-automation progress.
Providing Insights to best practices and process steps improvement via process insight tools and the use of digital twins to overcome change challenges with facts.
Will evolve paper into systems by combining RPA with document ingestion tools to handle ingesting semi-structured paper-based data formats via technologies such as optical character recognition (OCR) tools. And further, handling unstructured data via natural language processing (NLP) tools, voice recognition, chatbots and more complex rule engines to capture complex decision making, such as complaints handling and supply chain technology limitations.
By assisting organizations learn more about the total cost of ownership of RPA deployments, and start a replacement cycle for certain scripts in either more advance technologies as they become available or more cost-effective dedicated tools, which have more of the rules base in the process.
If your company already utilizes RPA, then hyper-automation is the next step in the automation journey. Nonetheless, it is crucial to consider whether a hyper-automation platform can support all the components you desire for driving end-to-end automation. Hyper-automation takes RPA out of the back office and into a client-facing environment. Invariably, the COVID-19 pandemic has accelerated the demand for an always-on, digital society.
Kanoo Elite, as an experienced organization providing RPA and hyper-automation solutions, can help you find the best opportunities to evolve and morph; and further assist you to leverage RPA bots inside your processes with popular RPA and hyper-automation vendors.