How difficult is it as an entrepreneur to run a small business?
It's not easy to comprehend for anyone who is not facing the challenges.
Yes, as an owner of a small business, you have to tread a path fraught with challenges. These include various types of obstacles that you need to overcome as a business owner. As you're running a small business, you might have shortage of funds, which can hamper your plans. Besides, you can also be lacking in terms of networking, which make it difficult for you to find a large number of customers. These and many more things can create some problems for your business to expand beyond what it is at the moment.  And add to that a few external threats and loss of important business information. You are surely going to find it extremely difficult to succeed as a small business owner.
Did you know?
In 2021, small businesses were the target of 43% of the total cyber-attacks.
As much as 60% of the small businesses went out of business within six months after being the victim of a cyber-attack.
A whopping 66% of small businesses are worried enough about external threats and attacks to take cyber security extremely seriously.
Why are small businesses more vulnerable?
Have you wondered why small businesses are so vulnerable to cyber security threats these days?
There are quite a few reasons behind this. These include:
Lack of awareness about cyber security
Dearth of time to focus on securing the systems
Less expertise in the online security
Shortage of funds to spend on cyber security
Absence of employee training on cyber security
Along with these, most of the small businesses also do not perform regular risk assessment. These, and more, contribute to your small business being a victim of cyber attacks. Therefore, it's important that as the owner of a small business, you are aware of these reasons behind security breaches in your business network.
How can you reduce the chances of a cyber attack on your small business?
Is there any way in which you can stop, or at least decrease, the chances of an external threat on the network of your small business?
You have to follow proper steps to keep your business systems secure. For this you need to be aware of the industry best practices to be followed.
Won't it be really helpful if you had a list of these steps and best practices written somewhere for you?
So, here's the ultimate cyber security best practices checklist to follow to ensure that your small business does not become a victim of cyber security threats and attacks.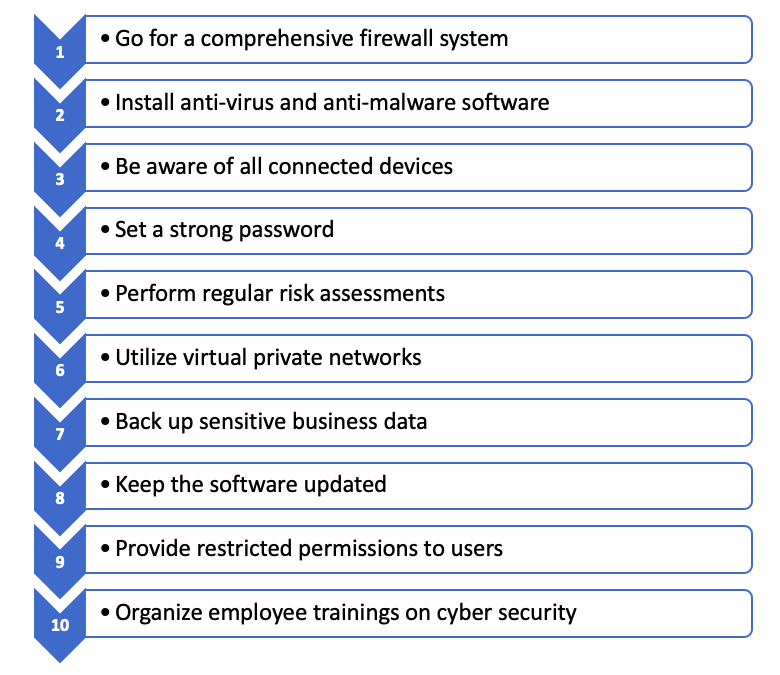 Go for a Comprehensive Firewall System
When you think of external threats and virus attacks on a system, what remedy comes to your mind in the very beginning?
Of course, it's the firewall system.
If you're planning to secure your business network, you need to have a comprehensive firewall. It should be capable of preventing any unauthorized access to your business systems. When you go for a strong firewall for your business, ensure that it has the capability of examining every incoming and outgoing communication to and from the network.
Install Anti-Virus and Anti-Malware Software
Attacks of external virus are among the most common forms of cyber security breaches. In addition, the number of phishing attacks is also increasing on a regular basis. Any such attack results in virus or malware being installed in all devices on the network. Therefore, you have to avoid such an event from happening. The best way to fight an attack of a virus or a malware on your business systems is by installing an anti-virus or an anti-malware software. Select a high-quality software to ensure that you get an advanced protection.
Be Aware of All Connected Devices
Are you aware of all the devices that are connected to your business network?
It is important that you have a clear picture of the devices that connect to your network on a regular basis. These include all types of hardware devices as well, such as office desktops, mobile devices, and routers. You must also be aware of the software that are installed on the business systems.
Do you for a bring-your-own-device approach for your business?
Then you must be aware of the devices brought by the stakeholders too.
Having a proper idea of all these devices that connect to your business systems helps you formulate a comprehensive network security plan.
Set a Strong Password
Did you know that majority of data breaches occur due to issues related to the password?
In many cases, the password is weak and therefore, is easily hacked. There are even circumstances when the password is lost or stolen.
Therefore, it is of utmost importance that you use an extremely strong password, which cannot be easily hacked. You must follow the password policies in use. To do this, you might have to use upper and lower-case alphabets, special characters, and numerals in your password. Besides, you should also change the password you've set every couple of months.
Perform Regular Risk Assessments
As a small business owner, you're aware that your business might experience attacks by external threats. However, to be in a position to thwart that attack, you have to know beforehand that types of attacks that can happen. The best way to be aware of the possible threats is to perform a risk assessment of your business. It is always a great idea to perform regular risk assessments, so that you have a proper forecast of the possible risks, which will help you undertake necessary steps.
Utilize Virtual Private Networks
In this digital age, every business deals with loads of data. Your business is surely no exception. Therefore, you have to focus on protecting the data. It can be done without much hassle, if you use Virtual Private Network or VPNs. These VPNs encrypt all traffic coming to and leaving the devices that are connected to your business network. This ensures that no one can get hold of any sensitive business data.
Back Up Sensitive Business Data
One of the most common forms in which businesses faces security issues these days is loss of sensitive data. To avoid this, you can back up the data at regular intervals. Use the cloud to store the data. If possible, try to back up the data in a few other places as well. However, no matter where you're backing up the business data, ensure that the place is secure enough.
Keep the Software Updated
It becomes easy for those perpetrating the external threats to enter into your business network if the software you use are not up to date. Therefore, ensure that you automatically update all software to their latest patches. This is going to reduce issues of security breaches significantly.
Provide Restricted Permissions to Users
Create different types of groups for your users. Ensure that you categorize the users depending on the permissions you grant them for using the networks. You must limit the use of the accounts that have maximum amounts of permissions.
It is important for every employee to have separate account. They should also have different credentials to log in to the system. Besides, you must also focus on deleting the account of employees the moment they leave the organization.
Organize Employee Trainings on Cyber Security
If you're looking to make your small business secure, you need to bring about procedure changes at the user level. Therefore, the stakeholders should have enough knowledge to make the necessary changes. To achieve this target, you must organize training sessions for the stakeholders. It is important to organize employee trainings on cyber security to ensure that your business remains safe.
Conclusion
As businesses these days deal with sensitive data, hackers are always trying to steal them. With lack of proper preparations to fight cybercrimes, small businesses are the most vulnerable to cyber-attacks. It is important for you as an entrepreneur to follow the comprehensive 10-point cyber security best practices checklist for small businesses. It will help you keep the business secure and prevent external attacks.