Hyper automation refers to the use of advanced technologies, like artificial intelligence (AI), machine learning (ML), and robotic process automation (RPA), to automate tasks that were once completed by humans. Hyper automation not only refers to the tasks and processes that can be automated, but also the level of automation. It is often referred to as the next major phase of digital transformation.
Regardless of which term is used, hyper automation is a powerful set of digital technologies that will continue to transform organizations across nearly every industry. Exploiting maturing digital technologies will enable most enterprises to further automate their operations and to support digital acceleration in identified phases. In this article, we will explore how executive leaders can move towards hyper automation in three challenging, yet feasible steps that each provide solid benefits to the enterprise along the way. The first two steps save a significant amount on labour and other operating expenses; the third step saves on huge capital expenditures: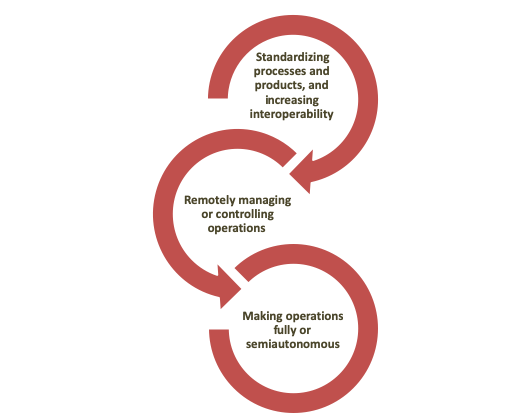 Analysis
Step 1: Standardization and Interoperability
Enterprises consolidate and standardize systems and processes across the entire organization, but standardization often requires major investments in conversion and integration, so interoperability (increasingly via APIs) is often a critical path on this journey. Thus, efforts include:
Critical business and manufacturing processes
Office systems, ERP, infrastructure, databases and so on
Operational technology, SCADA, and industrial control systems
APIs as access points for data and standardized applications
Intermediate benefits:
Standardization reduces the complexity of the technology environment
The enterprise can negotiate larger contracts with discounts and additional services.
Fewer staff can manage more systems.
A more-homogeneous environment simplifies deployment, integration and maintenance.
The enterprise gains the ability to compare operations, energy usage and processes across multiple regions to determine the best approaches.
Data standardization makes it easier to expose data insights directly.
Challenges:
Standardization versus innovation is a perennial source of conflict. Leaders must develop a governance process to grant exceptions where it makes sense.
Interoperability requires a dedicated IT team to continuously maintain and upgrade interfaces.
Standardization requires investment to retire old systems and implement new ones.
Step 2: Remote Management and Control
The enterprise adds remote control software and components, such as Internet of Things (IoT) sensors, on top of standardized systems so that they can be managed remotely through dashboards and control panels. There are widely varying degrees of remote management, from exception reporting to active real time data monitoring and collection; situational awareness; and online remediation to controlling a physical plant.
Intermediate benefits:
Remote control reduces the need for expensive staff to manage on-site systems and processes.
The management of systems and facilities is consistent across the enterprise and enables better, faster tracking and remediation of faults, and comparisons to prior incidents.
Leaders have a comprehensive view of what is happening across the organization.
Challenges:
The enterprise must buy/develop the control software and dashboards, and integrate new management processes, and train employees.
Deployment of the software is complex and requires knowledge of both IT and the facilities and processes it supports.
The remotely controlled facilities must adhere to statutory laws and regulations.
The enterprise must be able to ensure reliable network connections.
Step 3: Full or Semiautonomous Operations
Usage of data, algorithms and potentially physical robots and intelligent operational systems to automate processes, functions and facilities across the organization, define such operations. Artificial intelligence (AI) and machine learning (ML) scale up rapidly providing consistent performance within the limits of their design.
Examples
Fully and semiautonomous systems are already being deployed for a variety of tasks, and COVID-19 lockdowns are accelerating deployments in virtual areas, such as:
Financial services (foreign exchange, equities and bond trading; high-speed trading arbitrage; robo-advisors)
Medical condition analysis
Customer engagement and servicing
Benefits:
Intelligent endpoint AI controllers and updates can be replicated rapidly across standardized facilities.
AI/ML and algorithms have the capacity to adapt to situations and to improve continually.
Challenges:
The equipment is much more difficult to maintain, requiring a specialized workforce and access to expensive and rare parts.
Full or even semi automation requires sophisticated AI and algorithm capabilities.
Effective AI requires good data to train the applications and monitoring.
Decide When and How to Deploy Hyper automation
Different industries and specific enterprises will approach hyper automation in different ways, depending on their size, the nature of their business, regional and country policies. We can assess these areas by considering the following questions:
Business conditions:
Are automation technologies mature enough for the industry and enterprise?
What are their synergies with other technologies and business processes?
Business outcomes:
What business outcomes (such as cost reductions, efficiencies, better customer engagement and supply chain improvements) can the enterprise expect in three to five years?
Could the enterprise develop new products and services by deploying replicated facilities in other locations?
Resource availability:
What new technologies and other capabilities will be required to support hyper automation, remote control and autonomous operations?
Can the enterprise acquire the necessary skills to support data collection, curation and analytics?
Kanoo Elite has requisite expertise in industry- and function-specific processes, have developed our own intellectual property (IP) in terms of RPA, IDP, and AI/ML products, along with best practices and proprietary framework & implementation methodologies derived from large-scale engagements. We have developed our hyper automation services portfolio based on the best practices, proprietary framework, and implementation methodologies derived from scaled engagements delivered to some of the largest companies spread across the globe.