Currently, Healthcare Organizations (HDOs) are undergoing a major transformation driven by ever-increasing technological advances and the pressure of cost-effective care delivery strategies. The top idea for many health care leaders is how to improve performance and improve care while also ensuring the use of time and resources. The answer is obvious: HDOs need to move forward with building a Real-Time Health System (RTHS) model that can support and deliver a more connected, well-known, and patient-patient approach to clinical care.
The paradigm shift to RTHS requires the development of flexible technology that senses, directs and modifies processes as needed. RTHS uses state-of-the-art and effective 'current' intelligence to determine whether IT transformation or clinical intervention is needed. In doing so, it eliminates system waste and latency, speeds up workflow and business processes, balances resources by demand and improves quality of care.
To bring real-time care, your IT infrastructure needs to be highly reliable and accessible anytime and anywhere – however the reality is that many HDOs do not yet have an IT foundation to support this idea. Separated data silos and segmented graphics networks that require manual adjustment are no longer fit for purpose in this real-time response period. CIOs and network builders instead need to start adopting new cloud modes and SD-WAN shortcut technology that can be automated and integrated within their extended health system.
Our report helps you understand the critical stages of building a real-time health system and explain the key features and strengths of the Real-Time Healthcare System (RTHS) and provide a basic understanding of the health care provider CIO that needs to come to mind and think about implementation and implementation strategies.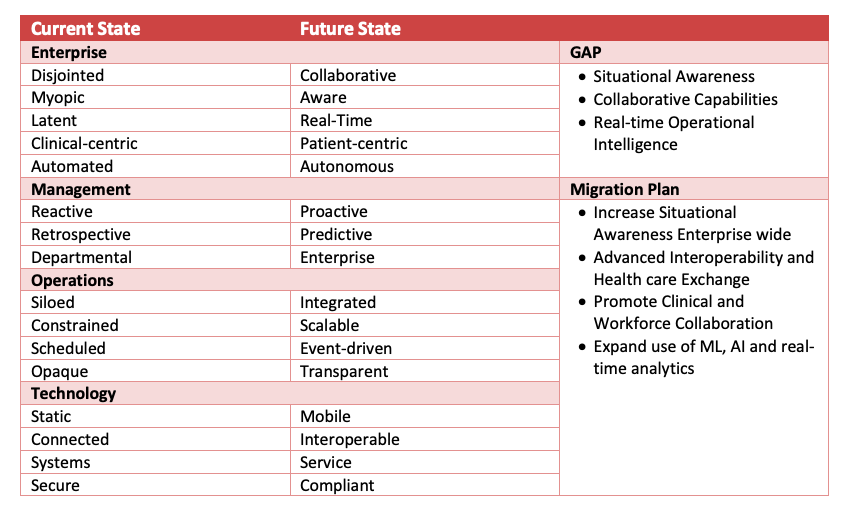 RTHS is an archetype of the next generation health care provider with certain characteristics that make it:
Strong in the face of uncertain business and regulatory climate
Responding to redefinition and demand for clients and patients
Support for the delivery of new care and payment models
Stronger with financial facts
Gap Analysis and Interdependencies
The delta between current and future trends suggests that complex business awareness, analytics and artificial intelligence will be needed to prepare for the future. The RTHS roadmap is a requirement for successful access to the next province, and the next country contains the features and capabilities of the RTHS.
While RTHS represents a maritime transformation for a health care provider considering performance and management, it should be built above and outside the IT resources that support the current world. Getting to the forefront requires a targeted, strategic, and additional IT investment in the short and long term.
Utilizing new and relevant RTHS technology can help close this gap and create an organization of health care providers:
Aware — – RTHS has information on business quality and visibility of critical patient events and clinical data so that its flow and business processes can benefit from the wisdom of timely performance. Status awareness is a defining feature of RTHS. RTHS technology that assists status awareness includes:
Alarms and Notifications
Crisis/Emergency Management
Internet of Things (IoT) in Healthcare
IoT Security in Healthcare
Medical Device Connectivity
Patient Throughput and Capacity Management
Real-Time Location in Healthcare
RTHS Command Center
RTHS Platform
Collaborative — The power of RTHS extends to all patients, long-term settings, and home care. It provides ways for team-based interaction beyond the integrated care, which allows patients and the care team in all health sectors to engage and share patient information in real time. RTHS solutions and collaborative technologies include:
Care Team Collaboration
Clinical Communication and Collaboration
Health Information Exchange (HIE)
Healthcare Interoperability
Interactive Patient Care
Next-Generation Nurse Call
Next-Generation Contact Center
RTHS Supply Chain
Vendor-Neutral Archive
Smart — RTHS does not get much of its intelligence from clear, pre-programmed instructions given by humans. Instead, it can retrieve and analyse data from multiple sources and use this information to adapt to changing circumstances, and over time, learn from the experience. It is an innovative machine for evolving health care and its learning opportunities. In the context of RTHS theory, it is "smart" and refers to the ability to effectively use operational intelligence, no matter how it is acquired. The RTHS functionality is new and dynamic and is collected, compiled, and used in real time. RTHS solutions and technologies that assist a smart business that uses real-time intelligence include:
API Management in Healthcare
Content Services Platform
Digital Twins in Healthcare
Experiential Wayfinding in Healthcare
Next-Generation Enterprise Master Person Index (EMPI)
Patient Privacy Monitoring
Patient Self-Scheduling
Patient Self-Service Kiosks
Positive Patient Identification
Process Simulation Modeling in Healthcare
RTHS Healthcare Costing
Smart Care Venues
Migration Plan
Disruptive changes and market uncertainties must be met with a disciplinary strategy that promotes continuous innovation. The health care provider must accelerate its transformation into a real-time, patient-centered digital business that will fundamentally transform the way care is planned, managed, and delivered, and ultimately paid for.
The below timeline shows how a healthcare provider can make significant progress in understanding RTHS and digital transformation over the next three to five years.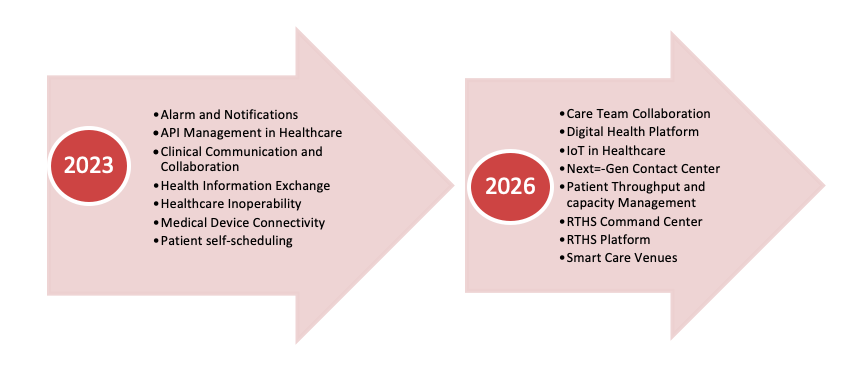 Kanoo Elite with its years of experience, providing innovation and IT embedded solutions in the Healthcare Industry will help you drive performance and strategic goals with a complete picture of how facilities in your healthcare network are performing, to ensure you are placing patients at the right facility, at the right level of care, at the right time to avoid unnecessary readmissions. We will assist you to enable Interventional Analytics and turn it into actionable insights that will have an immediate impact on your ROI. With Kanoo Elite's embedded RTHS solutions seamlessly collaborate with partner hospitals, health systems, ACOs, and managed care plans to improve care, reduce costs, and achieve a level of interoperability.