Right now, during this pandemic, healthcare systems are struggling with uncertainty – as it tries to stem the tide of infections that are sweeping across nations. As societal, compliance and financial demands on Healthcare Delivery Organizations – HDOs increase, the role of the HDO CIO becomes that of a navigator from the traditional, disjointed operations to a more streamlined and digital healthcare delivery model — one that possesses pervasive and sophisticated situational awareness and operational intelligence and the means to leverage it. RTHS represents the transformation of the HDO into an efficient, consumer-and patient-friendly enterprise that will create innovative care options and an improved healthcare experience.
The aim of the RTHS vision is to describe an HDO that is:
Accessible, inviting and nurturing
Collaborative and devoid of unnecessary clinical toil
Safe, secure and compliant
Responsive to individual preferences and needs
Operationally efficient and sustainable
Situationally aware, smart and appropriately autonomous
The RTHS is a response to the current state of the healthcare provider where awareness is often limited, information is not easily shared, and workflows and business processes are disconnected. When executing against the RTHS vision HDO CIOs should ensure that all IT products, services, and technologies exhibit future-state characteristics and capabilities.
Analysis
Next-Generation HDO in RTHS Terms
The RTHS vision describes a multidimensional conceptual, operational and technology framework for the next-generation HDO. This vision will enable the CIO to employ digital solutions and technologies to solve persistent industry challenges and successfully adapt to a rapidly changing and competitive healthcare provider market. The relevance, reach and agility of existing application portfolios, must be increased to include a purposeful collection of solutions and technologies to form an industry archetype that acquires and synthesizes information, determines action, and orchestrates resources and workflows based on this operational intelligence.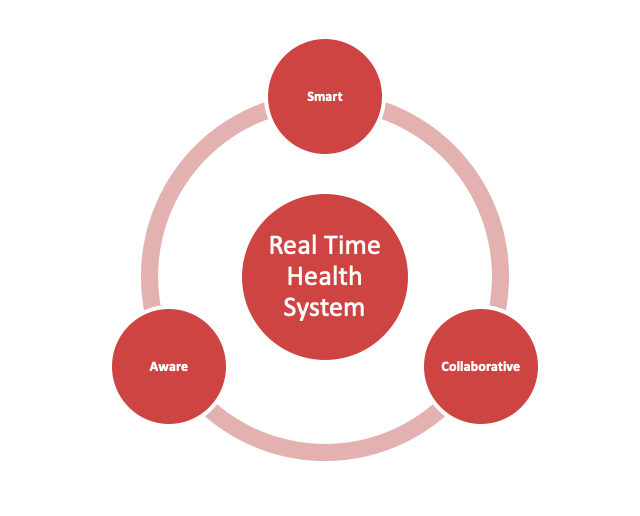 Realize The RTHS Vision
The RTHS vision consists of the following four parts:
Concept
Capabilities
Assets
Research
Concept
The RTHS represents the future of the healthcare provider enterprise, as it leverages specific digital technologies and solutions to become more situationally aware, collaborative and smart (that is, it makes the best use of real-time operational intelligence). The RTHS also possesses real- time workflow orchestration capabilities to enhance operational efficiency and optimize costs.
Capabilities
RTHS vision requires a healthcare provider enterprise to be:
Aware — The RTHS possesses enterprise- level situational awareness and visibility into critical patient events and clinical data so that its workflows and business processes can benefit from up- to-date operational intelligence.
Collaborative — RTHS capabilities extend its reach and influence across the inpatient, outpatient, long- term and homecare settings providing means for care team collaboration.
Smart — The RTHS can acquire and analyse data from many sources and use this information to adjust to changing circumstances, and over time, learn from their experiences. In the context of the RTHS vision, "smart" also refers to the ability to make the best use of operational intelligence.
Real Time — This namesake RTHS dimension refers to how the enterprise responds to events —patient- related and others. It uses artificial intelligence (AI), machine learning (ML) and advanced analytics to achieve its objectives.
Assets
The HDO includes software systems and technologies from many generations that are as much impediments to, as they are enablers of, progress. We will need certain digital assets to execute the RTHS vision and will require the implementation of technologies as follows: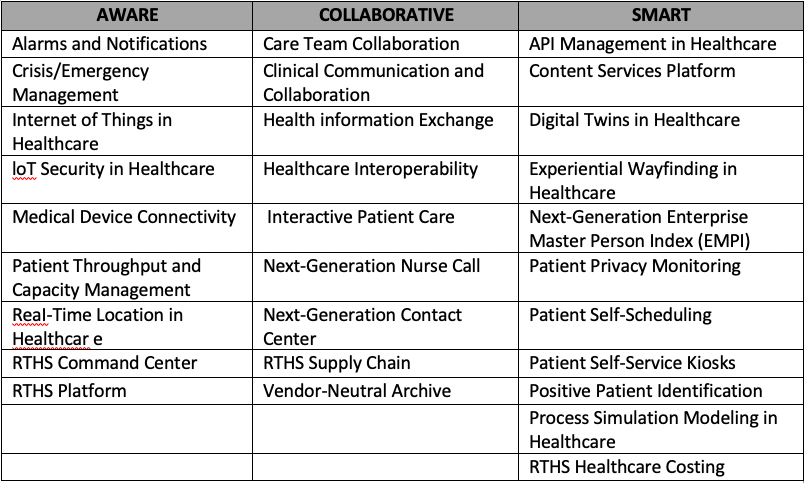 Research
HDO CIOs should maintain an ongoing research program to monitor and adapt their vision of the RTHS. The CIO will need to experiment with new digital business possibilities. Advance your vision of the next-generation health system is the composable enterprise. A composable enterprise is an organization that delivers business outcomes and adapts to the pace of business change. The composable enterprise conforms to RTHS concepts and principles and promotes the need to evolve from their current state of inflexible, monolithic applications, toward a portfolio that is more modular and adaptable to business change. There is also the digital health platform (DHP) – an architectural approach that enables a healthcare provider to nimbly adapt its business and operating model in response to external disruption and change in business strategy.
Kanoo Elite with its glorious years of research and development in healthcare systems, will be a great contributor to CIOs to help better understand what an industry vision for the RTHS; as a kind of blueprint and assist you to build it out gradually as you acquire knowledge and ability. Kanoo Elite is focused on optimizing the patient journey through the health system from the time they enter the hospital through their discharge and subsequent placement across the continuum. Kanoo Elite can help enable integrated and holistic near, real-time data that creates predictable excellence in clinical, operational and financial outcomes. We can help you equip your organization with the right tools and technology to be transformed into a Real-Time Health System of the Future.
Let us help you integrate data throughout your network and within the Health System, predict operational and clinical needs, and secure patient communication and clinical workflows to transform and optimize care delivery.